Museum Relocation Overview
A New Home for Kirkland Museum of Fine & Decorative Art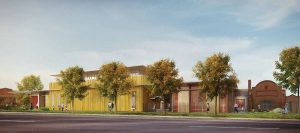 Kirkland Museum is temporarily closed because we are building a new facility and relocating to 12th Avenue & Bannock Street, near the Denver Art Museum and the Clyfford Still Museum, in Denver's Golden Triangle Creative District. The new 38,500-square-foot museum, designed by Seattle-based Olson Kundig, is projected to open in early 2018.
In 1910–1911 English-born artist Henry Read (1851–1935) commissioned architects Maurice B. Biscoe (1871–1953) and Henry H. Hewitt (1875–1926) to design 1311 Pearl Street for his Students' School of Art at 1311 Pearl Street in Denver. The Arts & Crafts building has only ever served the cause of art education, creation and appreciation.
In 2000, an addition to the original building was completed. This addition was built to the immediate south of the original studio & art school building. Kirkland Museum opened to the public on April 2, 2003 and welcomed the citizens of Colorado and visitors from around the world.
In 2013, 10 years after the museum opened to the public, it became clear that in order to best promote international decorative art, Colorado and regional art and Vance Kirkland, a larger building would be necessary. In January 2014, Kirkland Museum announced plans to move the museum to a new building to be built at 12th Avenue and Bannock Streets in Denver's Golden Triangle. Over 450 guests joined Denver Mayor Michael B. Hancock for the groundbreaking held September 10, 2015.
In early 2018 Kirkland Museum will open its doors to a new building, featuring the relocated 1910–1911 studio & art school building. The new facility in the heart of Denver's Golden Triangle Creative District will feature the addition of new or expanded visitor amenities and provide a world-class display space to exhibit the collection in the salon style for which Kirkland Museum is known.
Vance Kirkland Studio Move
On Sunday, November 6, in partnership with Mammoth Moving & Rigging Inc. and Shaw Construction, the Vance Kirkland Studio building made its highly anticipated move through the neighborhood via eight sets of remote-controlled articulating wheels to its new home eight blocks west at 12th & Bannock in Denver's Golden Triangle Creative District.
Vance Kirkland's studio & art school building (built 1910-1911 for Henry Read's Students' School of Art) is the heart of the Kirkland Museum experience. Kirkland (1904-1981) was among the most important Colorado and regional painters of the 20th century and painted in the studio for most of his 55-year career. To honor its significance, Kirkland Museum has worked closely with the historic preservation community to ensure that the move and the condition of the three-room studio are maintained.
We extend a huge thank you to our partners Mammoth Moving & Rigging, Inc. and Shaw Construction for their meticulous care in moving the Studio, as well as the numerous city agencies who assisted in making it possible and the support of our neighbors. We are expanding our universe and are excited to be surrounded by wonderful institutions that make Denver a world-class art destination.
For photo and video of the Studio move, see our Facebook page and YouTube Channel.
Web Site: http://www.kirklandmuseum.org/new-building/new-building/
Timeline
Announcement of future relocation; architect chosen: January 27, 2014
Groundbreaking: September 10, 2015
Existing location began temporary closure: May 2, 2016
Studio move: November 6, 2016
Expected opening at the new location: Early 2018
The Neighborhood
Denver's Golden Triangle Creative District is the place to go for art and culture in Denver. Located steps from the gold-domed State Capitol, the neighborhood is home to the Denver Art Museum, Clyfford Still Museum, History Colorado Center, Byers-Evans House Museum, Denver's Central Public Library and numerous galleries. Kirkland Museum's new location makes it more convenient for art lovers who can now park once to experience all the world-class artwork Denver offers in the Golden Triangle.
Featured Relocation News
Westword, April 12, 2017: A Look at the Kirkland Museum, a True Landmark in the Making, by Michael Paglia
Colorado Public Radio, January 4, 2017: With A New Location, 2017 Is The Year The Kirkland Museum Goes Big, by Corey H. Jones
The Denver Post, January 1, 2017: 10 Denver arts and culture events to look forward to in 2017, by Ray Mark Rinaldi
Denverite, November 9, 2016: WATCH: Vance Kirkland's studio rolls across Denver, by Kevin Beaty (VIDEO)
​Westword, November 7, 2016: Watch the Historic Vance Kirkland Studio Relocate (VIDEO)
National Trust for Historic Preservation, November 7, 2016: Historic buildings on the move, by Kirsten Hower
The Denver Post, November 6, 2016: Historic 150-ton Kirkland Museum trundles across downtown Denver as it moves to new location, by Tom McGhee (VIDEO and article)
Fox 31 Denver, November 6, 2016: Historic museum makes a long-awaited move (VIDEO)
CBS Denver 4, November 6, 2016: 'Museum On The Move' Creates Plenty Of Interest In Capitol Hill (VIDEO)
Denver 7, November 6, 2016: Kirkland Museum moves from Capitol Hill to Golden Triangle (VIDEO)
Colorado Public Radio, November 4, 2016: Who Was Vance Kirkland And Why Is His Art Studio Blocking Denver Traffic? by Corey H. Jones
Westword, November 4, 2016: Vance Kirkland Studio Moving to New Museum Site on November 6, by Michael Paglia
The Denver Post, November 2, 2016: Kirkland Museum moving to new site—that is, the entire building is moving, by Ray Mark Rinaldi
The Denver Post, April 23, 2016: Take a last look at Denver's Kirkland Museum—for free, by Ray Mark Rinaldi
Westword, April 1, 2016: Will the Kirkland Museum Be the Best New Building of 2017?, by Michael Paglia
Westword, September 16, 2015: When It Opens in 2017, The New Kirkland Museum Will Be Transcendent and Ascendent, by Michael Paglia
Colorado Public Radio, September 11, 2015: Kirkland Museum Breaks Ground on New Denver Facility, by Corey H. Jones
The Denver Post, September 10, 2015: Kirkland Museum Breaks Ground in Golden Triangle, by Ray Mark Rinaldi
Westword, September 9, 2015: The New Kirkland Museum Breaks Ground, Will Elevate Denver's Art Scene, by Michael Paglia
Media